About Us

Scottish Terriers, originated from the Scottish Hebrid Islands, from the humid and wet climate and settled well in our family. It seems that the ancient "moisture bond" is still alive, as we live in the street of Ponds in Vilnius. However, in order to give a warmer and more colorful meaning to the life of our Scotties, a name of "Fire chalcedony" was given to their family, which is meant to help discover forgotten or hidden talents, create peace and harmony.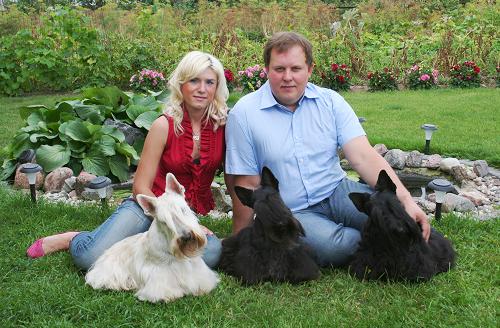 The first Scottie that gave the start of "Scottie mania" in our family - Bega. She has the true character of a Scottish terrier. She is well known and honored by the neighbor dogs for her leader qualities ;) She is an outstanding personality with an expressive voice and capability to draw attention to herself. In her young days, Bega even had her own rules of action in the Dog training school.
In the year of 2004, Chami has come to our family - she was my first scottie from Russian kennel "Filisite Brash". Bega was full of joy, as she met her new friend, with which she could go on a journey through the undiscovered neighboring surroundings. This wish of course came true and time after time it became their favorite hobby. Their slogan of action is – "Neighbors, beware, we are coming!". However, Chami has a more relaxed, calm temper. She is a Scottie of an aristocratic type that has even tried the role of river captain.
The "freshest" member of our company – Quicky - is the leader of Scottie girls that stands out not only with his fur color, but also with his gentleman manner. He wishes luck for the girls as they get ready for their new discovery trip and stays home for security reasons. He has lots of action there, rules the yard by "talking"to crows and neighbor dogs.
Our Scotties, besides their actions and attractions, are also careful parents of beautiful doggies, which with their first steps in dog shows are receiving high achievements and victories. The family of "Fire chalcedony" has a strong bond with their "children"- meetings, chats are a regular thing that is being done.
We all are enthusiastic travelers that travel not only around Lithuania, but also around Europe, other far "exotic" countries. Taking part in an exhibition and winning it is a part of our life. It is great fun and adventure traveling all together and having the support of all family, victories come naturally then.